Turf Management

Precision products and services tailored to local conditions.
No one knows turf better than Baileys.
From local council passive and active parks and reserves, schools, golf and bowling clubs to iconic sporting venues, Baileys specialise in quality products for professional turf management.
Baileys locally manufacture and market a wide variety of turf products including blended, fully granulated compound and liquid NPK fertilisers, mini prills for greens and finer turf surfaces, wetting agents, organics and distribute the Simplot range of BEST® controlled release fertilisers.
Compounds v Blends

What is the difference?
Watch our video to learn the difference between compound and blended fertilisers.
Compound - Uniform granules spread evenly, each granule contains the correct nutrient amount for the plant
Blend - Different size and weight particles do not disperse evenly, resulting in uneven nutrient deficiency for the plant.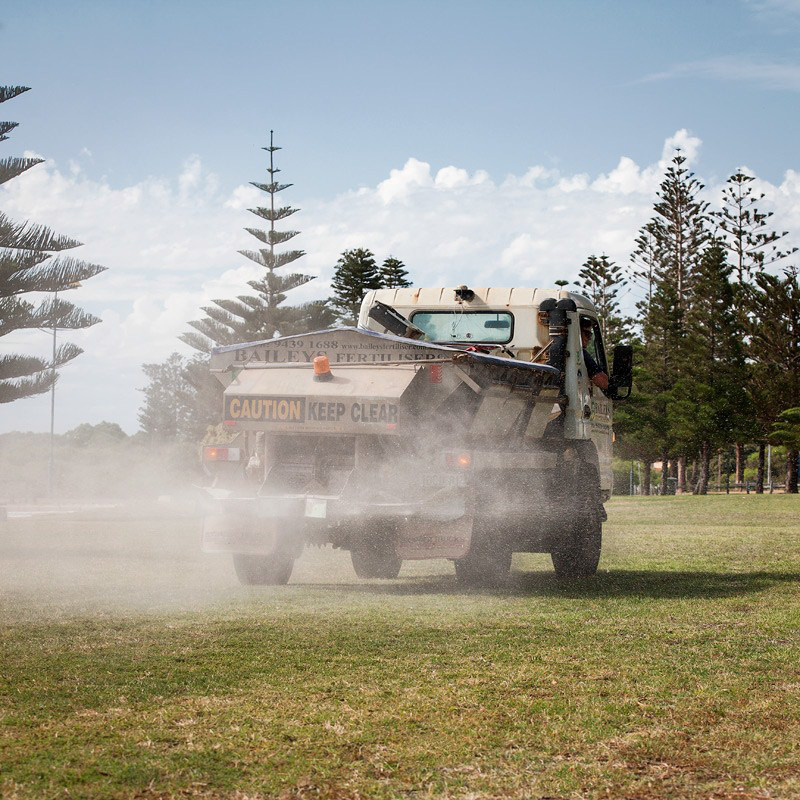 Supply & Apply Spreading Services
Accu-Spread accredited for precise application and reliable results.
Baileys provide a professional spreading service for the application of fertilisers to turfed areas, large or small. Single product is spread by Baileys purpose built trucks, which have a 2 tonne capacity. For larger areas, Baileys can deliver in bulk bags to a nominated depot, saving you time and money.
Baileys have had Accu-Spread Certification since 2000, verifying their ability to supply and accurately spread fertiliser in accordance with the Australian Fertiliser Services Association standard. Accreditation is renewed every three years.
Baileys provide professional spreading services for the application of:

Pasture fertilisers such as lime and granulated product;

Turf fertilisers such as blended and granulated product;


Soil amendments, wetting agents and soil improvers.
Fertcare Accu-Spread accredited equipment and trained operators. Paths and walkways are blown down after application to ensure no fertiliser staining;

Complete service - supply and apply of fertiliser is cost and time effective and custom fertiliser blends can be supplied based on laboratory testing of soil, plant or water samples;

Spread width of up to 22 metres;

GPS enables accurate spread and area measurement;

Variable spinners enable side shooting from both sides of spreaders and hand spreading is available for smaller areas not accessible by trucks.
SmartCUBE Technology
Today, meeting expectations while making the most of limited resources is a pressure faced by turf managers across the state. A dedication to innovation and efficiency has inspired Baileys and Waterman Irrigation to combine their technical expertise and develop the SmartCUBE, an automated Wetting Agent and Liquid Fertiliser dosing system that provides a turn key solution to reducing water use, while maintaining and improving turf response. Learn more about the SmartCUBE by downloading the brochure here.